Cody Egan, RMT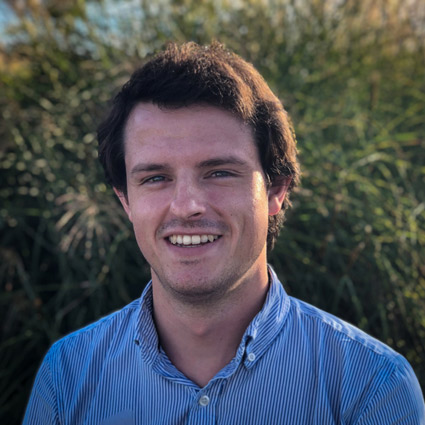 Cody takes pride in both his practical and academic knowledge. He applies this to his practice to get a comprehensive picture of what is causing the patient's problem and then create a solution.
In practice, Cody has experience working in a variety of settings including Lululemon's SeaWheeze half marathon, UBC Varsity Sports, GF Strong Rehab Center, and more. He has experience working with a great variety of health conditions.
Cody has an interest in sports medicine among other aspects of massage. Having grown up in Vancouver, Cody has partaken in many sports and activities that the city has to offer. He enjoys snowboarding in the winter, surfing in the summer, and playing competitive soccer. Year-round he gets outdoors to cycle and hike. With these sports, injuries are common. Cody has broken bones, sprained ligaments and strained muscles. He knows what it takes to recover from these injuries and he utilizes his practical and academic knowledge to come up with a treatment plan that fits for each individual patient.
Before graduating from West Coast College of Massage Therapy, Cody worked for 5 years to become a red seal, sheet metal journeyman. He has experience working with his hands and working with people. As a foreman on a construction site, he became skilled at solving problems. A lot of people say construction is such a far leap away from massage, but it has a lot of similarities. You work with people, you follow a plan, and when there is something wrong with that plan, you have to adjust. You have to find a solution. And that is a lot like the body. It follows a plan, and when an injury or something goes wrong, you have to adjust and find a solution.
Cody is currently practicing at two different clinics; one in Surrey and one in Vancouver. The days and clinics can be found below:
---
Surrey Hours
Scott Road Massage Therapy
Monday 9-6
Tuesday 10-7
Phone: (604) 597-9335
Vancouver Hours
Body Option Clinic
Wednesday 10-2
Thursday/Friday 1-7
Phone:(604) 260-2713
Online Booking »
Testimonials
Had a few issues with my leg and back for awhile and l have gone to different outfits to get some relief. I got to say Cody Egan was extremely knowledgeable and diligent in his work. After only 2 sessions my foot is almost pain free! Thanks again Cody.
After a suggestion from a friend, I tried out this clinic for my constant back pain. I scheduled an appointment online (which makes things so much easier) to see Cody E. for a massage. The clinic was bright and clean.
Cody spent the time to really find out about my concerns and evaluate my mobility before beginning the treatment. He explained everything he was doing as he did it and always checked with me to make sure the pressure was good. He made me feel comfortable enough to tell him, where sometimes a massage therapist makes it feel weird.
When he was done, he explained what he did, what he found and gave me easy at home exercises I could do to help alleviate my pain in between treatments. The receptionist was polite and prompt and the treatment room had an amazing view of the city. 100% happy
I had my first body massage ever and Cody Egan was awesome. At the end of my session, I had more mobility on my neck. Would definitely recommend Cody or Body Option Clinic if anyone has issues.
Schedule an Appointment
Reach out to us today to find out how Cody Egan, RMT can help you feel your best.
CONTACT US
---
Cody Egan, Massage Therapist | (604) 599-3997